Royalty free music download free
100 tracks for the non-commercial Use on YouTube, Facebook, Instagram!
On this page you will find 100 free mp3 music tracks of different genres, which you can download by following the Terms of use (see below) and use it free of charge.
Simply download the music as mp3 for free and use it immediately, e.g. as background music in your YouTube videos or social media clips (Facebook, Instagram, TikTok). Start now!
Start now - without registration!
100 high quality mp3 music tracks Free download Use immediately
For commercial uses visit my MUSIC CATALOG directly and license your song in studio quality - incl. GEMA exemption certificate!
---
Here's how it works:
How can I download the free GEMA music as a private person?
Start MUSIC PLAYER Click DOWNLOAD ICON Comply with CONDITIONS OF USE
Do you need a certificate / proof of license or is your use promotional / commercial?
With our cheap licenses you can use your desired song directly & legally secure:
---
Free royalty-free film music
Epic - Inspiring - Emotional
With your project you want to the really big feelings challenge? You've come to the right place. Turn your vacation or family video into a blockbuster with these opulent film music tracks. Create breathless suspense with "Deep Impact"! Let tears of emotion flow with "A Beautiful Memory". Or make your audience smile with the Criminal Cat.
---
Free MP3 Music - examples from my YouTube channel
Download free mp3 music - 100 free tracks for your videos!
YouTube teaser of my free selection of GEMA-free music that you may download and use free of charge as a private person, as long as your use is not commercial or promotional.
Orchestral Film Music - Soundtrack Compilation
The compilation contains epic, blockbuster-like pieces as well as quiet fantasy works with decent orchestra. All pieces are GEMA-free - some of them can even be used free of charge by private persons.
---
Royalty-free pop & rock music for free
Positive - Involving - Motivating
Whether catchy ballad or good, honest rock - with the professionally produced free pop & rock music you hit the right nerve. Convince your listeners of an idea or a project and convey visions of success with the following songs, life affirmation and happiness. Good mood pre-programmed!
TIP: Use the "Package Icon" right behind the respective song to be able to purchase a license for the song directly!
(e.g. if you need the music in CD quality or your use is promotional / commercial)
Find more cool pop rock tracks!
---
Free royalty-free piano music
Thoughtful - Calm - Emotional
Great emotional cinema! With "Melancholic Sunday" or "Little Love" you experience moods of longing, hope or love particularly intensely. But sorrow and pain also claim their space in our soul. Then, for example, "Quiet Farewell" can accompany your pensiveness or sadness. Find the right emotional material for the moving moments of life. The following compilation of emotional piano pieces fits especially well to topics, such as family, pets or relationship. Download now for free as background music.
Discover more wonderful piano music!
---
Your advantages when buying a license?
CD quality music PRO Exemption Document Legally compliant use
Visit the Music catalog with larger selection now and license your song in Studio quality (WAV format, 44.1 kHz, 16 bit).
---
Free royalty-free Electro Music
Driving - Technical - Playful
You are looking for a rousing and dynamic beat for your gameplays, fitness clips or other fast-paced video sequences? Find the perfect GEMA-free music now for free in the following playlist of electronic tracks!
---
Breakbeat & Big Beat Music Free Download
Aggressive - Powerful - Evil
You like it a little harder? Then watch out! This is where it gets hot. Whether it's a motorcycle tour, whitewater rafting or downhill mountain biking - with these breakbeat & big beat tracks, you'll feel the action in your videos, and you'll be right in the middle of it! Give your videos the power they need with action-packed songs now. Download now as GEMA free music for free!
Go to Breakbeat & Big Beat Tracks
---
Download your song in CD quality now!
Visit our music catalog now and license your song in studio quality (WAV, 44.1 kHz, 16 bit, stereo)
---
Free Jazz & Funk Music Titles
Casual - Cool - Relaxed
For Lightness and serenity in your photo or video sequences is responsible for the following selection of jazz & funk music tracks. The crispy beats in "Funk Warte" penetrate directly into the fingertips and make them snap as if by themselves. "Blue Night" or "Jazz Café" also result in indispensable rhythmic head bobbing. Groove Alert! Download GEMA-free music for free now.
---
Royalty-free World Music
Passionate - Mysterious - Alive
Experience fiery Spanish temperament with "Andalusian Love". Dive into the endless expanse of Asia with "Temple of Asia". Feel the freedom and joy of life in "Reggae Feeling". The free World Music tracks give only a small insight into the range that this genre serves. Breathe here a little bit of the aroma of the big wide world. Download now as background music and breathe more life into your videos!
Find more exciting World Music titles!
---
Royalty-free Christmas songs
Festive - Contemplative - Homey
Find more enchanting Christmas songs!
---
I hope my free mp3 music has helped you!
If you'd like to support me I'd really appreciate it 🙂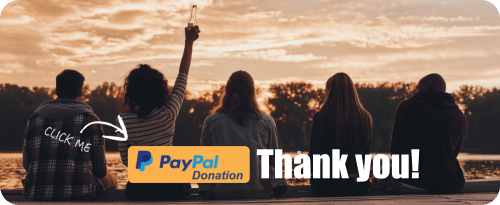 Many thanks to all supporters so far !!!
The latest donation comes from Susanne K. - 15€ Thank you! 👍
---
Terms of use
+++ INFO ON HOW TO USE THE 50 MUSIC TRACKS ON OUR SITE +++
Attention: No support for the free tracks!
Please understand that there are no support for the free music titles (neither by e-mail nor by telephone).
If you are not sure about your usage, better buy a License for the respective piece of music.
---
What uses are allowed?
Use exclusively BY PRIVATE PERSONS *
(e.g. vacation videos, drone movies, project for school).
→ Companies, clubs, self-employed etc. need a license.
Cut music (shorten, lengthen, loop), change volume
Laying speech / texts / sounds over the music
Publication of the non-commercial videos on the Internet
What do I have to do for this?
Specify TerraSound as source
YOUTUBE → Music by @DagReinbott_TerraSound
(in the video description)
FACEBOOK → Music by @TerraSound_de (in post)
INSTAGRAM → Music by @terrasound.gemafreie.musik (in post)
WEBSITE (specify in the source code of the web page - copy & paste):

* One Private individual is a natural person (consumer) acting on his own behalf, not acting as a representative on behalf of companies, authorities, associations, foundations.
Example: If you use the music in the course of your self-employed activity, you are considered to be Entrepreneur.
Uses that are NOT allowed!
Any commercial and advertising use (e.g. image/product films, generally advertising films)
Monetization of the videos (= commercial and therefore subject to licensing!)
Use by companies / commercial entities (e.g. GmbH, gGmbH, AG)
Use by authorities (fire department, police, offices, etc.) or clubs (e.g. sports clubs, theaters, etc.)
Connection with politics or religion
Basically NOT allowed is sampling, remixing, adding more instruments or vocals and reselling the music
License music now with legal security!
Furthermore, uses that violate the laws of the Federal Republic of Germany, the European Union, public order or morality are prohibited. A use of a work of TerraSound.de in such contexts is inadmissible and constitutes a serious breach of contract.
---
FAQ - Free MP3 Music
Where can I GEMA free music download for free?
There are several music platforms on the Internet where you can also download GEMA-free music for free. On TerraSound you can download 50 tracks for non-commercial purposes free of charge.
---
Is Royalty-free music generally free of charge?
GEMA-free does not always mean free of charge at the same time! Mostly, a license (right of use) must be purchased for the use of the respective GEMA-free piece of music, if you want to use a piece as background music in a commercial video (advertising video, book trailer, etc.). On this page you can download GEMA-free music free of charge and use the total of 50 pieces of music non-commercially under indication of the source (see terms of use above).
---
Are there also providers of free mp3 music download abroad?
There are many providers of "Royalty Free Music", where you can download free background music for videos. However, this does not necessarily mean that this music is GEMA-free (in Germany)! It is always worth reading the fine print of the respective platform.
---
Why do I receive a YouTube copyright warningeven though the music is free of charge?
First of all, let me reassure you - you did nothing wrong. Your channel will not be banned, nor will any of your videos be deleted.
The "copyright complaint" simply means that the video cannot be monetized by you. That's all.
Briefly, why there is now this message for individual pieces of music:
In the past, music was downloaded from my website, the songs were renamed and published or sold under a different name. To protect myself from this unlawful use of my music, I have now registered a part of my music pieces via "AdRev" (Content ID).
You can find more information here if needed: About YouTube Content ID
Your videos will still be visible. There is no threat of deletion, blocking, additional payment or similar. However, monetization of your videos is only possible with a license.
---
Download royalty free mp3 music for free!
When selecting the free music, I made sure to include as many different styles of music as possible. For example, the songs from the free world music category are very suitable as background music for vacation movies that you want to publish online in social media on websites.

The pieces from Free Piano Music and Free Film Music are dynamic and very emotional. Therefore, this music can be perfectly integrated into landscape shots, nature films, slideshows and moving family videos.

Last but not least, there are also the "Power Songs" from the categories free Breakbeat / Big Beat Music and free Electro & Techno Songs. Due to the powerful character, these music pieces are perfect for the soundtrack of sports and action videos.

The pop & rock songs are suitable for podcasts and other media projects that require a more positive, musical character, e.g. image films. The framework conditions are important for the respective use of music, for example, whether the author must be named when music titles are used in films.
I hope you enjoy scoring your videos with my free music.
Speaking of free - for some of my piano pieces you can now download the Piano sheet music to play also download free of charge for private use.