Funk and jazz music
Royalty-free funk and jazz music - excellent as background music for Telephone queues or suitable for web videos and advertising.
Funk & Jazz - a touch of coolness
---
Pink Lounge Speed: 120 bpm Ι Length: 2:19 Min
Floating, spherical and pulsating soundtrack with beautiful surface sounds and psychedelic electric guitars; reminiscent of Pink Floyd. Perfect for documentaries and portraits, as background music for audio guides, vlogs or as pleasant interlude in autmotivated telephone announcements.
---
---
---
---
---
---
---
---
---
---
---
---
---
---
---
---
Funk and jazz music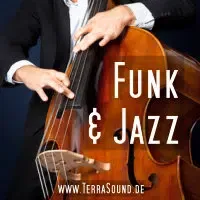 Jazz originated around 1900 in the southern states of the USA and was originally produced predominantly by African-Americans. Jazz quickly evolved in a variety of ways, very often crossing over with other musical genres and traditions.
Around 1960, among other things, the musical genre of funk (which was also developed from various influences of soul and rhythm & blues).
The funk and jazz genre at TerraSound stands for cool, relaxed and positive background music with mostly classical instrumentation of double bass (or electric bass), drums, piano, Rhodes, electric guitar, saxophone and trumpet.
All songs of the category FUNK / JAZZ GEMA-free, i.e. after licensing a piece of music come No follow-up costs due to collecting societies (e.g. GEMA, AKM, SUISA) will be approaching you. Further information on the topic Royalty free music can be found on the home page.