Rock & Metal Music
Here you will find powerful, honest rock & metal music. Ideal as background music for action & sports and as earthy intro music for potent speakers.
Rock & Metal music - not for the faint of heart!
---
---
---
---
---
---
---
---
---
---
---
---
---
---
---
---
---
Rock & Metal Music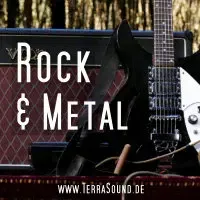 Rock music is the generic term for the music genres that have developed from rock'n'roll, beat music as well as blues. The main characteristic of rock music are distorted electric guitars, which give rock a raw and powerful touch. Also involved are potent drums, a rich electric bass and powerful vocals.
Less often the instrumentation is supplemented by piano, keyboard or even a Hammond organ. However, these often find their use in the progressive rock area.
From the roots of rock, a great many new styles have developed, each of which has again divided into many sub-styles.
All songs of the genre ROCK / METAL are GEMA free, i.e. after purchasing a license for a track fall no further costs due to collecting societies (like GEMA, AKM, SUISA etc). Here you can find more Info about GEMA free music.