Download license free music for your videos
On this page you can download royalty-free music from the genres Ambient, Breakbeat, Film Music, Piano Music, Pop & Rock, World for free and use it for your non-commercial videos on YouTube, Facebook, Instagram or TikTok - without registration! Prerequisite is the indication of the source of TERRASOUND.DE as well as the compliance with the Terms of use.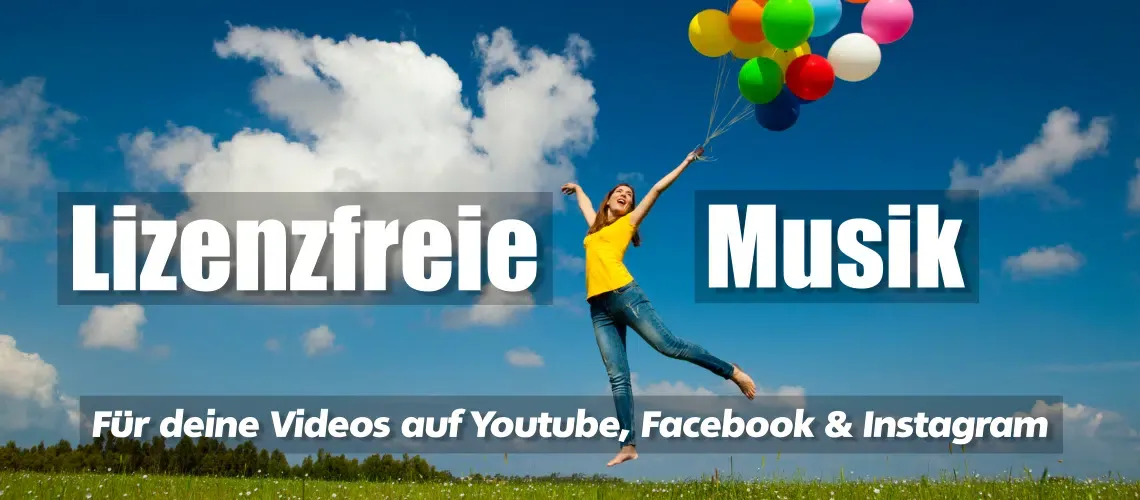 Download royalty free music - 50 tracks for your videos
For commercial music use visit my MUSIC CATALOG directly and license your song - cheap and legally secure!
---
License-free music for videos on YouTube, Instagram, Facebook.
This is how easy it is... 1. play music | 2. click download icon | 3. indicate source (see below)
---
Your advantages when buying a license?
Music in Studio quality Proof of license PRO exemption certificate
Visit now my Music catalog with larger selection and license your Song already from 19,00€ (PRIVATE license).
---
---
License-free background music for videos - here are two movies from my YouTube channel:
Compilation of royalty free music tracks from TerraSound
The video contains a compilation of royalty-free free tracks.
The Piano Compilation - inspiring piano pieces
You can also find some of the piano pieces on this page as royalty-free downloads.
---
---
Terms of use for the license free songs
+++ INFO ON THE USE OF LICENSE-FREE MUSIC +++
Attention: No support for the free songs!
Please understand that there is no support for the royalty free music titles (neither by e-mail nor by phone) -.
if you are not sure about your usage, better buy a License for the respective piece of music.
What uses are allowed?
exclusively private individuals* (e.g. for vacation videos, drone movies, a project for university, etc.).
Cut music (shorten, lengthen, loop), change volume
Laying speech / texts / sounds over the music
Publication of the non-commercial videos on the Internet
What do I have to do for this?
Specify TerraSound as source
YOUTUBE (in the video description):
https://www.terrasound.de/lizenzfreie-musik-fuer-youtube-videos/
FACEBOOK (in post): Music by @TerraSound_en
INSTAGRAM (in post): Music by @terrasound.gemafreie.musik
WEBSITE (specify in the source code of the web page - copy & paste):

* One Private individual is a natural person (consumer) acting on his own behalf, not acting as a representative on behalf of companies, authorities, associations, foundations.
Example: If you use the music in the course of your self-employed activity, you are considered to be Entrepreneur.
What uses are NOT allowed?
Any promotional usage (e.g. image film, product film, book trailer, showreel, etc.)
Monetization of the videos (= commercial and therefore subject to license!)
Use by companies / professionals (GmbH, gGmbH, AG, UG, etc.)
Use by authorities (fire department, police, offices, etc.) or clubs (e.g. sports clubs, theaters, etc.)
Connection with Politics or Religion
Basically NOT allowed is sampling, remixing, adding more instruments or vocals and reselling (sublicensing)
License music now with legal security!
Furthermore, uses that violate the laws of the Federal Republic of Germany, the European Union, public order or morality are prohibited. The use of a work of TerraSound.de in such contexts is inadmissible and constitutes a serious violation.
---
Download your song in CD quality now!
Visit our music catalog now and license your song in studio quality (WAV, 44.1 kHz, 16 bit, stereo)
---
FAQ - License free music
What is license-free music?
Besides the term Royalty free music, which is explained in more detail on the home page, is also often used by many music archive providers with the wording License free music advertised. This means, mutatis mutandis, that no license (right of use) has to be acquired for the use of a piece of music - neither from the author, a publisher, nor from any collecting society.
This may be the case in exceptional circumstances, when a composer (author) has his or her free GEMA free music for private use (for example, as background music for a wedding video, photo show or slide show). However, commercial uses are usually excluded from thise.g. the use of music in image or product videos, TV, advertising, cinema or computer games. For the use of music in commercial projects, the purchase of an appropriate license is recommended in any case to be legally protected.
What content can I use online on YouTube for free?
YouTube itself offers an audio library that contains a large selection of free music tracks that you can use in your own YouTube videos without violating copyright. These music tracks are license-free and can therefore be used without the permission of the rights holders. On TerraSound.com you can find 50 license-free songs, which you are allowed to use free of charge if you comply with the conditions (see above).
Where can I download royalty-free music for free?
There are several websites where you can find free, royalty-free songs. However, it's important to note that some websites may have certain restrictions on the use of the tracks, such as the indication of the author or the lack of editing rights. Therefore, make sure you read the terms of use and license agreements carefully before downloading and using a track.
Which songs are license-FREE?
There are many songs that are license-FREE and can be used in various projects without any legal problems. However, it is important to understand that the terms "license-FREE" and "free" do not mean the same thing. Some types of songs that are usually license-FREE include:
Classical music: Works by composers who have been dead for a long time, such as Beethoven, Bach, Mozart, are first free of copyright. However, the respective PLAYING of these works may be subject to licensing and fees again.
Traditional folk music: Music pieces that are part of the folk music and culture of a country can usually be used without a license.
Music without copyright: There are also pieces of music that were never copyrighted because they were created by artists who had no interest in copyrights or because they were created before copyright laws were introduced.
Music with Creative Commons license: Some artists choose a Creative Commons license for their tracks, which allows others to use their content as long as they comply with the terms of the license.
Is royalty-free music automatically copyright-free?
The wording "license-FREE" is actually a bit misleading, as it is quickly equated with "copyright-FREE". However, this is not the case in Germany, where copyright cannot be transferred.
To be sure not to violate any copyright, you should always contact the author (musician, artist, composer) directly and ask whether the use of their works (music, photos, lyrics) is okay.