World Music
Royalty-free World Music - let yourself be enchanted by the different moods and atmospheres. From positive and lively, to mysteriously melancholic, to romantically spirited, you'll find a wide range of moods and emotions here. Therefore, the music pieces offer a variety of possibilities for the soundtrack of your film.
World Music - oriental mysterious or spanish temperamental
---
Music that appeals to good feelings and opens the mind. Lively, dreamy, danceable and powerful. Electronic elements, pads and arpeggios with electric guitar, cymbalon and harp.
---
---
---
---
---
---
---
---
---
---
---
---
---
---
---
---
World Music - briefly explained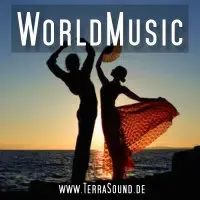 The term "world music" (Weltmusik) emerged around the 80s, with the WOMAD festival (initiated by Peter Gabriel) playing a major role, among others.
It is a collective term for the traditional music of various countries. In my productions I have mainly dealt with Europe and the Middle East.
The genre is constantly being expanded, especially to bring the great sound character of some traditional instruments more into focus. The music pieces are therefore of course particularly suitable for documentaries about the corresponding country.
All music pieces of the category WORLD MUSIC are GEMA-free, i.e. after licensing of a song come No follow-up costs due to collecting societies (GEMA, AKM, SUISA) to the customer.