Ambient and chillout music
Here you can find a list of songs from the genres Ambient and Chillout. The pieces usually have a quiet, unobtrusive character. They therefore support the film or video rather subtly to create a greater atmosphere or to enhance the respective mood.
Ambient & Chillout - Music for the soul
---
Music that appeals to good feelings and opens the mind. Lively, dreamy, danceable and powerful. Electronic elements, pads and arpeggios with electric guitar, cymbalon and harp.
---
---
---
---
---
---
---
---
---
---
---
---
---
---
---
---
Ambient & Chillout - more info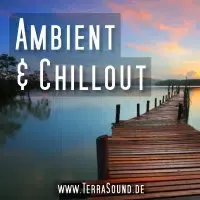 Ambient belongs - just like chillout - to the group of electronic music. This music style stands for mostly calm and atmospheric sounds. Drums and percussion are used in ambient music rather in the background. Often no clear rhythm is recognizable.
Ambient music very often experiments with large reverb spaces. In addition, natural and artificially created effects are often used. Due to the characteristic rather leisurely structure, these pieces of music often have quite a long playing time.
Chillout music is pleasant background music without great dynamics. That's why Chillout is best suited for the unobtrusive background music of videos and movies.
All music in the AMBIENT / CHILLOUT category is GEMA-free music, i.e. after licensing of a title, the following will arise No follow-up costs due to collecting societies (GEMA, AKM, SUISA). More information about the term Royalty free music on the home page.