Hip Hop & Trap Music
Cool effects, lofi samples and fat beats define the genre Hip Hop & Trap at TerraSound.
Hip Hop & Trap Music - fat beats for your project
---
---
---
Ways Speed: 60 bpm Ι Length: 2:08 Min
Sink into your world of thoughts! Discover "Ways" for more concentration while studying (Study Sessions) or to chill out. The soft lofi beats carry your followers through the scenes of your video blog, lead them through picture worlds of modern art or lifestyle, give travel or city scenes the wanderlust factor. Listen now and dive in.
---
---
---
---
---
---
---
---
---
---
---
---
---
---
Hip Hop & Trap Music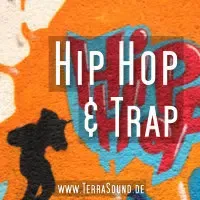 Hip hop comes under the umbrella term "urban music," which is used to describe the many different styles of music surrounding contemporary R&B (rhythm and blues). After the end of the disco era, artists such as Michael Jackson and Prince began to combine pop, funk and soul, giving the term R&B (as opposed to its original use focusing on blues music) a renaissance.
Hip hop is also clearly part of this, a type of music that combines sampled beats with spoken vocals. Although hip hop music mainly lives on vocals (rap) besides the beats, at TerraSound we mostly have purely instrumental hip hop songs in our catalog due to demand.
All music pieces of the category HIP HOP / TRAP are GEMA-free, i.e. after licensing of a music piece you can expect No follow-up costs due to collecting societies such as GEMA, AKM or SUISA. More info about Royalty free music can be found on the home page.