Royalty free Christmas songs
Here you will find a great selection of well-known Christmas music (newly and lovingly arranged) as well as original compositions with orchestra and choir - of course royalty-free!
Lovingly arranged Christmas songs - for a contemplative Christmas time
---
Oh silent night, softly trickles the snow - but like this? A somewhat offbeat version of the two Christmas classics with a slightly mystical touch.
---
---
---
---
---
---
---
---
---
---
---
---
---
---
---
---
GEMA-free Christmas music - for a contemplative Christmas time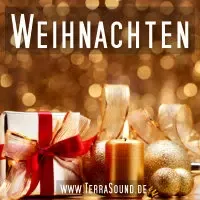 Sometimes cheerful with whistled melody, sometimes solemn classical with piano, orchestra and choir. Here you will find the right Christmas music for your video, your e-greeting card or even telephone system.
From "Every year again", about "Jingle Bells" up to "Daughter Zion, freue dich" are all the world-famous Christmas songs that will put you and your customers in the right mood.
All Christmas songs are of course completely GEMA-free, which means for you: legally secure use for your videos on YouTube, without having to fear blocking.
All songs of the category CHRISTMAS MUSIC are GEMA-free Christmas music, i.e. after licensing of a title come no further costs due to collecting societies such as GEMA, AKM or SUISA.